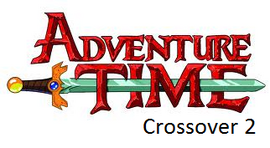 Adventure Time Crossover 2
is the sequal of the
Adventure Time Crossover
. The returning heroes from the last series (Leonard McLean, who looks now differant, Finn and Jake) face Death's son, who is their primary target. This sequel is made by Leonard McLean 14 and 5raptor5.
Characters
Heroes
Villains
Minor Characters
Episodes
Gallerys
Ad blocker interference detected!
Wikia is a free-to-use site that makes money from advertising. We have a modified experience for viewers using ad blockers

Wikia is not accessible if you've made further modifications. Remove the custom ad blocker rule(s) and the page will load as expected.