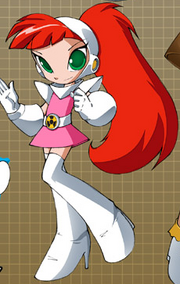 Betty is a typical schoolgirl who is highly athletic and loves almost every sport she tries. She also enjoys visiting her grandmother, singing in her band, and hanging out with her friends. She is not afraid to speak her mind, either, and dislikes any form of bullying, snobbery, and injustice. However, when there is trouble in deep space, she captains her own starcruiser as the main protagonist Atomic Betty, a Galactic Guardian and defender of the cosmos. In space, she investigates crimes and fights evil. She can easily defend herself as an expert hand-to-hand fighter, but is also equipped with Galactic Guardian-issued bracelet, housing a communications device and remote controls for her ship and its teleporter, as well as an array of gadgets and weapons.
Gallery
Ad blocker interference detected!
Wikia is a free-to-use site that makes money from advertising. We have a modified experience for viewers using ad blockers

Wikia is not accessible if you've made further modifications. Remove the custom ad blocker rule(s) and the page will load as expected.