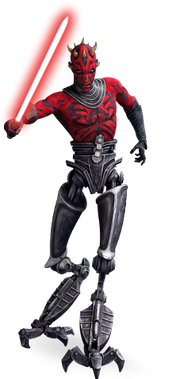 Darth Maul was a Dathomirian Zabrak Sith lord, the first known apprentice of Darth Sidious. Maul was taken by Sidious from his home and separated from his two brothers,
Savage Opress
and trained to be a weapon fueled by the dark side of the Force. Before the Clone Wars, he was bisected by Obi-Wan Kenobi during the Trade Federation invasion of Naboo and presumed dead.
However, despite his bisection, Maul somehow survived his encounter with Kenobi and escaped to Lotho Minor, where he received cybernetic legs and remained for the next ten years in exile, losing his memories as he was slowly driven mad.
Ad blocker interference detected!
Wikia is a free-to-use site that makes money from advertising. We have a modified experience for viewers using ad blockers

Wikia is not accessible if you've made further modifications. Remove the custom ad blocker rule(s) and the page will load as expected.