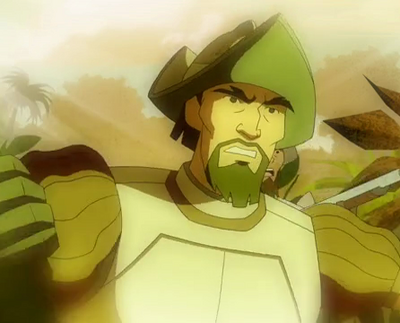 El Aguirre was a Conquistador.
The Powerpuff Girls Crossover
El Aguirre was once the leader of a band of Conquistadors. During an expedition, his men disocvered a crystal sarcophagus filled to the brim with black pearls. Against the warnings of the native people, El Aguirre and his men decided to take the treasure aboard and sail home with it. Over time, however, an evil presence about the sarcophagus twisted the minds of the conquistadors, driving them to destroy entire villages in search of gold and jewels. El Aguirre was finally able to fight the evil's influence and made for port in a missionary settlement, most likely hoping the holy power of the church would surpress the evil power. He and his men used their Planispheric disk to chart a course to the hiding place where they dumped their cursed treasure, particularly the sarcophagus, and then divided the disk into six pieces, which he proceeded to scatter in an attempt to prevent anyone from ever finding the treasure and awakening the evil in the sarcophagus. The Conquistadors renamed the settlement "Megaville" to always remember what they had hidden there. He left one piece in the settlement's church, most likely for the monks to guard. He looked after one of the pieces of this disc and kept it on his ship where his remains lay.
While the mystery gang were leaving the ship's wreckage after it tumbled from the mountain, El Aguirre's ghost appeared and announced the word Nibiru as he watched them disappear.
The mummified Friar Serra explained that he met El Aguirre while on the island. The Conquistador left two pieces of the Planispheric disk, which Friar Serra took. One ended up on the bottom of the ocean when the original missionary settlement sank. Friar Serra hid the second piece inside a cheese.
Ad blocker interference detected!
Wikia is a free-to-use site that makes money from advertising. We have a modified experience for viewers using ad blockers

Wikia is not accessible if you've made further modifications. Remove the custom ad blocker rule(s) and the page will load as expected.