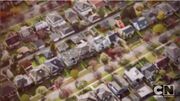 Elmore, USA
(pop. 20,000) is a fictional town in the
The Amazing World of Gumball
and is the setting for most of the episodes. Though it generally functions like a normal city, Elmore is unique in that almost everything in the city has the possibility to come to life.
Elmore, like other minor metropolitans has its own financial district, park districts, residential districts and an interstate highway running through it.
Locations/Residents
Known Residents
Locations
Houses
Elmore-Related
Trivia
Ad blocker interference detected!
Wikia is a free-to-use site that makes money from advertising. We have a modified experience for viewers using ad blockers

Wikia is not accessible if you've made further modifications. Remove the custom ad blocker rule(s) and the page will load as expected.