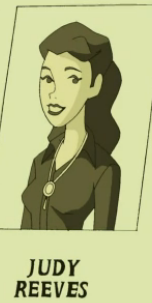 Judy Reeves is the biological mother of Fred Jones, Jr., and was a member of the Crystal Cove's original original Mystery Incorporated. She is married to Fred's birth father,
Brad Chiles
, another member of the group.
She and Brad make traps and solve mysteries under the assumed name of "Sternum and Sternum." They invented the Flattenhower 8000.
Ad blocker interference detected!
Wikia is a free-to-use site that makes money from advertising. We have a modified experience for viewers using ad blockers

Wikia is not accessible if you've made further modifications. Remove the custom ad blocker rule(s) and the page will load as expected.