Mabel Abigail Watterson is Gumball's twin sister. She is a main character of the television series The
Mabel Watterson
Character Information
Gender:
Female
Also known as:
Mabs, The Modern Juliet
Species:
Cat & Immortarl
Age:
19
Friends:
Gumball, Darwin, Penny, Tobias, Banana Joe, Rocky,Lola Bunny ,Dexter, The Powerpuff Girls, Tron, Young Autobot, Grievous, Mordecai, Rigby, Bugs Bunny , The Treehouse Girls, Grievous, Poison Ivy, Harley Quinn, Catwoman, Ilana, Lance, Octus,
Enemies:
Ra's al Ghul, Deathwing, T - 1000, Dead Justice, Miss Simian, HIM, Jamie, Mr. Robinson, Mrs. Robinson, Mojo Jojo, Clu, The Great Devourer, Airachnid, Alduin, Lord Garmadon, the Serpentine, Robots, Shockwave, Bane, Moe Howard
Relatives:
Gumball Watterson (Twin brother)

Darwin Watterson (Adopted Brother) Nicole Watterson (Mother) Richard Watterson (Father) Anais Watterson (Sister)

Occupation:
Student, Ultimate Hero, Spy
First Appearance:
The DVD (Original series), (Humm... Is here somebody to tell me the first Fanfiction made on this wiki?)
Voiced by:
Lewis Black (FNAF Crossover)
Amazing Adventures of Gumball and Martha and the main protagonist in
The Amazing World of Gumball: The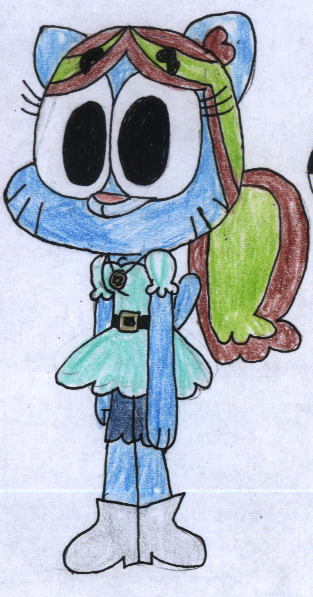 Movie
and
The Powerpuff Girls Crossover
and a bit later on the
Adventure Time Crossover
. She is a twelve-year-old, turquoise colored cat that goes to
Elmore Junior High
with her twin brother Gumball.
thumb|313px|link=
The Amazing World of Gumball: The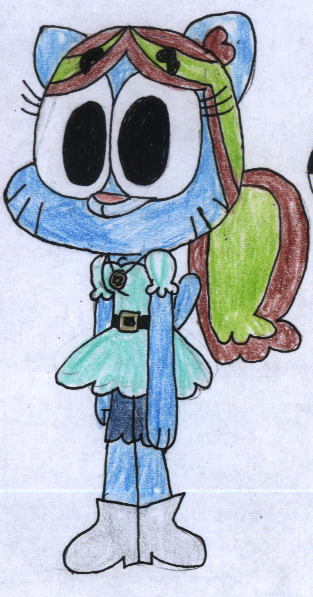 Movie
and
The Powerpuff Girls Crossover
and a bit later on the
Adventure Time Crossover
. She is a twelve-year-old, turquoise colored cat that goes to
Elmore Junior High
with her twin brother Gumball.
Looks
Mabel is a blue cat with broiwn hair. On her oversized head, she has six whiskers. She usually wears blueskirt coupled with bleumarine pants. Like her parents, Mabel doesn't wear shoes, and is the only member of the Watterson with visible hair.
Gallery
Ad blocker interference detected!
Wikia is a free-to-use site that makes money from advertising. We have a modified experience for viewers using ad blockers

Wikia is not accessible if you've made further modifications. Remove the custom ad blocker rule(s) and the page will load as expected.