Upon dying, Sub-Zero V's soul was corrupted and he became a wraith named Noob Saibot. He lost his ice abilities but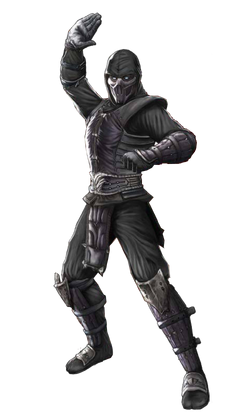 gained a new power: the ability to control darkness. Under his new identity, he served
Shinnok
as the head of the
Brotherhood of Shadows
for a time. He mainly played the role of observer until Shinnok's apparent demise in 4, which caused the Brotherhood to disband. He made a triumphant return when he nearly killed
Goro under
the servitude of
Shao Kahn
during Deadly Alliance, but after Shao Kahn (apparently) died, his role shifted to observer again until Deception, where he finds Smoke in one of Kahn's old prisons. He reactivates Smoke and reprograms him into servitude. He now aspires to enslave the Netherrealm under his iron rule by assembling a new Brotherhood of Shadows.
Noob's storyline in Mortal Kombat 9 is pretty much the same. He serves Quan Chi more readily than in the previous games, but he also hasn't lived the events post-Deadly Alliance, so it remains to be seen if he'll eventually strike out on his own. He is apparently still alive (err... exsisting) and serving the Netherrealm by the game's end.
Ad blocker interference detected!
Wikia is a free-to-use site that makes money from advertising. We have a modified experience for viewers using ad blockers

Wikia is not accessible if you've made further modifications. Remove the custom ad blocker rule(s) and the page will load as expected.