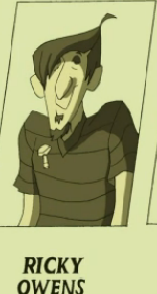 Ricky Owens is one of the missing original Mystery Incorporated members who disappeared in the Crystal Cove Caves.
The original Mystery Inc.'s Ricky is the older counterpart of the younger Mystery Inc.'s Shaggy Rogers due to their appearance and personalities, aswell as their respective friendships with their team's mascots, Professor Pericles and Scooby-Doo.
He also shared a (somewhat) similar relationship with Cassidy Williams to the one shared between Shaggy and Velma Dinkley; Cassidy was attracted to Ricky, and the latter couple were actually in a romantic relationship. Ricky, Cassidy, and Pericles also paired off like Shaggy, Velma, and Scooby, respectively, when looking for clues.
Ad blocker interference detected!
Wikia is a free-to-use site that makes money from advertising. We have a modified experience for viewers using ad blockers

Wikia is not accessible if you've made further modifications. Remove the custom ad blocker rule(s) and the page will load as expected.