Volunteering for the automation process out of loyalty, Sektor was the first cyborg assassin created by the
Lin Kuei
.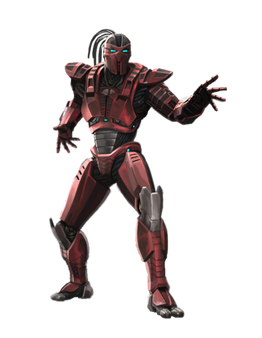 Utterly ruthless, uncompromising and having no hint of emotion. He was the embodiment of what the clan was attempting to accomplish.
The assassin's first mission was to hunt down and kill the renegade Sub-Zero with his partners cyborgs Cyrax and Smoke. Despite several attempts on his life he failed to eliminate the deserter. His repeated battles with Outworld forces soon lead to his program being corrupted as he believed the Grandmaster of the Lin Kuei was now "inferior" and killed him.
Only the intervention of Sub-Zero prevented Sektor from gaining the Dragon Medallion. After his defeat he fled to Japan to form his own clan of cybernetic ninja's, the Tekunin.
It is revealed in Mortal Kombat 9 that Sektor pretty much had no mercy or morals even before being cybernetically enhanced (his robotic personality did not differ much from his human one), as well as him actually being the Lin Kuei Grandmaster's son. Just like Cyrax, his status after the game is unknown, but he's probably still around.
He is a villain on The Powerpuff Girls Crossover 2 and Mandark sended him on a mission to kill Dexter with the help of Scarecrow and The Joker along with Cyrax.
Ad blocker interference detected!
Wikia is a free-to-use site that makes money from advertising. We have a modified experience for viewers using ad blockers

Wikia is not accessible if you've made further modifications. Remove the custom ad blocker rule(s) and the page will load as expected.