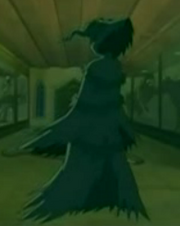 He was a ghostly figure in a large cape, with his face hidden. He was eerie and threatening. He seemed to fly along. This was actually
Pericles
flying within the cape. He could also activate traps throughout the house to make things move.
Ad blocker interference detected!
Wikia is a free-to-use site that makes money from advertising. We have a modified experience for viewers using ad blockers

Wikia is not accessible if you've made further modifications. Remove the custom ad blocker rule(s) and the page will load as expected.