Formerly a deadly Lin Kuei assassin from Prague named Tomas Vrbada, Smoke was forced against his will to become a cyborg assassin. However unlike other warriors converted into killing machines he retained his soul which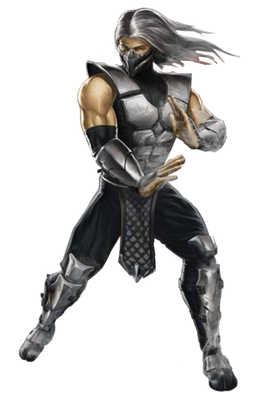 constantly battles against his programming to assert Smoke's free will.

During the second tournament in Outworld, Smoke was assigned to aid the sixth Sub-Zero in his assassination of Shang Tsung. The mission was unsuccessful but the two did aid the Earthrealm warriors against Shao Khan. Returning home to find the Lin Kuei planned to convert their members into cyborgs, Smoke and Sub-Zero fled to avoid being turned into machines. Unfortunately Smoke was captured and then forcibly made into a cyborg assassin. Sent after his former friend Sub-Zero, he eventually realised he still had a soul and overcame his programming. Despite aiding his ally in Cyrax and Sektor's defeat, Smoke was captured by Shao Kahn's forces.
Taken as a trophy to Outworld, he rotted in Kahn's dungeon deactivated until revived by the evil Noob Saibot to be his ally against his will. Noob intends to use Smoke as a template for a cyber-demonic army. But there have been signs that his true nature remains.

Smoke's story is probably the one which most dramatically changed in Mortal Kombat 9 when compared to his previous incarnation.
Smoke, with the help of Sub-Zero and Gumball Watterson, defeated Scarecrow.
Ad blocker interference detected!
Wikia is a free-to-use site that makes money from advertising. We have a modified experience for viewers using ad blockers

Wikia is not accessible if you've made further modifications. Remove the custom ad blocker rule(s) and the page will load as expected.