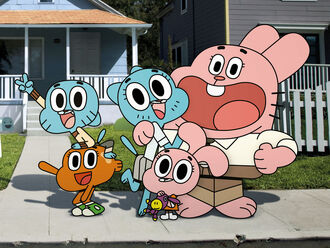 Welcome to The Amazing World of Gumball FanFic Wiki
It's Amazing!
How you can help this wiki
Write a FanFcition about The Amazing World of Gumball. Most know what they are, but FanFiction is, for instance, you or I, not writers of the show, write a story about Gumball and his friends.
Requirements
This FanFcition wiki is primarily for under-13 year olds, so I'm going to let K [Everyone] K+ [Almost Everyone] and T [Teen]
Titles can be a nuisance, but you need to be creative with your title: Just because that one nam

e sounds epic, ask before you use it. After writing, we want to see your work! So, use categories I'm setting up, like the ratings, any significant things [such as being a freindship, a romance, an adventure, a song, etc] Alternate Universe, cussing and w
hen the story is [If not during the show; eg. Gumball is thirteen]
This FanFiction CANNOT contain extreme lemon, lime, or any kind of sex. Love and romance is welcomed, and you can go ahead as you please.
OCs can be in your story; you can also create a page about them.
The Amazing World of Gumball Crossover Wiki
Didn't you ever think that Gumball and his friends should be in an anime as the main heroes? Or that a character from a different fandom would make a heck of a difference, should you write a fic? Do you think that there aren't any antagonists to choose from in Gumball, so you want to use one from a different show? You're making a The Amazing World of Gumball Crossover!
What is a crossover? Making situations and/or characters from two worlds come together!
Well, making a The Amazing World of Gumball Crossover is very, very easy! First, just have to think of something to cross it over with. For example, if we were to put the Wattersons in Pokemon. Sounds cool, right? Well, now all you need to do is write a fic with Pokemon and Gumball!
Please note that writing a crossover between opposite shows, such as My Little Pony: Friendship is Magic with Borderlands 2 without out of character ponies would be hard without a mature rating, which we don't accept as of late. But, with experience, you can pull that off! We accept crossovers here and at our affiliated group, The Amazing World of Gumball Crossover wiki.
Contests
We have a considerably large wiki here, right? With active contributors, we can have something exciting...
Monthly Contests!
Rules
Starting on the first day of each month through the twenty fifth of each month, you may post a FanFiction on the wiki corresponding to the prompt. It'll be posted here, and at eight o'clock on Tuesdays and Wednesdays, PennyFitzgerald will be on Chat, accepting prompt suggestions from users.
The rules...
You must have an account on Wikia to participate.
You need to have it in by the 25th, no exceptions!
The story must be rated 'Everyone' or 'Almost Everyone.'
They need to be one-shots, or single-chaptered stories.
Try to have cover art of sorts. It'll be easier to show the victor.
If you beg to win, we will issue punishment as we see fit.
You may only enter one story per month. Until further notice, voting will be held the 26th in Chat from eight thirty Eastern time to nine o'clock.
DO NOT VOTE FOR YOURSELF OR ANONYMOUSLY. It's wrong!
Unless there's an exception, you CANNOT submit any of the following:
Songfics, or songs
Parodies
Multi-Chapter stories
Animations or movies
Stories under 800 words
Shipping involving canon characters from any fandom except for canon TOGETHER pairs.
Crossovers WILL be accepted, but if we cannot accept it, we'll notify you of it and explain.
To enter, put the tag for the corresponding month and year (ex: December 2012 Contest) on it.
Reward
The reward for each contest will be a feature on the bottom of the front page for that month.
Contacts
If you want more information, contact PennyFitzgerald on a message wall.
Prompt
Happy holidays! Write a story about some characters enjoying a holiday in December. This time around, we allow mistletoe meetings.
End Explanation
Well, that all you need to know about fanfiction rules click Edit and lets get editing|