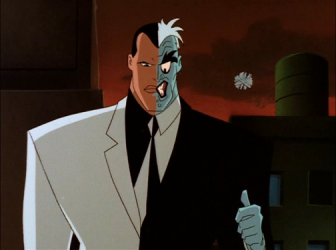 After
Harvey Dent
, the lawyer prosecuting mobster Sal Maroni, is splashed in the face with acid he becomes Two-Face. He then takes Maroni's lucky double-headed coin. Most famously, Two-Face uses the two-headed silver dollar, one side of which is scarred, the other side clean. Flipping the coin dictates Dent when making any significant life decisions. If the coin lands on the scarred side, Two-Face will pursue acts of evil. If the coin lands on the unmarked side, he is compelled to commit acts of good. Two-Face often defers to his coin in choices of life and death. At one point, Two-Face was so dependent on the coin for any of his criminal acts that he could be easily defeated by taking the coin away from him or preventing him from seeing the result of the flip.
Ad blocker interference detected!
Wikia is a free-to-use site that makes money from advertising. We have a modified experience for viewers using ad blockers

Wikia is not accessible if you've made further modifications. Remove the custom ad blocker rule(s) and the page will load as expected.