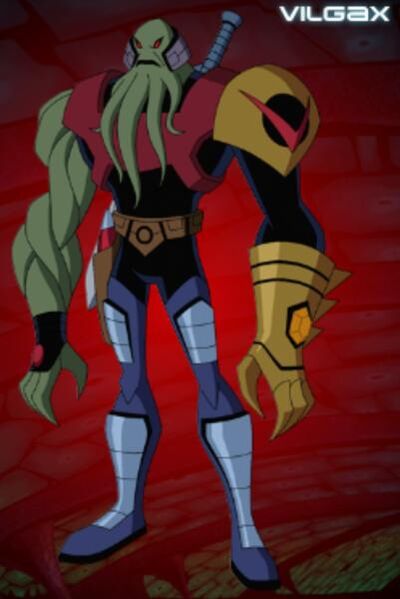 Vilgax is ruthless, cruel and power-hungry. His primary objective seems to be gaining the Omnitrix so that he can use it to take over the universe. He is known to be very manipulative, notably so of the Galactic Code of conduct, in order to achieve his goals. While stranded on Earth following his defeat at the end of Alien Force, Vilgax skillfully manipulates a group of humans known as the Flame Keeper's Circle into serving him. Upon discovering that his squid-like form resembles the alien of knowledge worshipped by the cult, he adopts the role for his own and manipulates his new followers into helping him escape the planet.
Despite his cruel and villainous tendencies, Vilgax does care about his own people (taking his role as Vilgaxia's ruler and champion very seriously), so much so that he is willing to put his own life on the line and use whatever other means necessary to ensure Vilgaxia's and its people's safety; even if it means begging his enemies for help.
Ad blocker interference detected!
Wikia is a free-to-use site that makes money from advertising. We have a modified experience for viewers using ad blockers

Wikia is not accessible if you've made further modifications. Remove the custom ad blocker rule(s) and the page will load as expected.